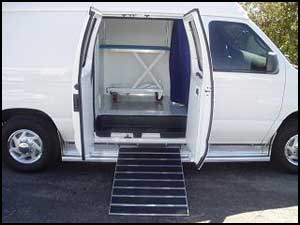 SAFETY
Our exclusive "Open Floor Plan" permits visibility out both rear windows and both side windows. Fewer blind spots mean safer lane changes. And when you must drive in reverse, this rear window visibility, combined with a top mounted mirror and a backup alarm, help ensure the safety of you, and those around you. In case of a mishap, a "bulk head" wall, behind the driver's seat, protects you from your table and your tools. All 110 volt electrical wires are run in conduit to help protect you from electrical current. And our inverter equipped conversions are powered by AGM (Absorbed Glass Mat) batteries. Other manufacturers use golf cart batteries filled with liquid acid.

COMFORT AND CONVENIENCE
Our air conditioners are sized to remove heat, humidity and airborne contaminants, ensuring your comfort and safety. High capacity hydraulic tables (optional on the Basic Model) enable you to lift a 200 lb dog from 13" to 35" - effortlessly. Our unique floor plan allows pets to walk from the grooming table to the tub - no lifting required. You will be pleased to find that the suction hose of the integral vacuum/clipper system (optional on the Basic Model) is mounted at shoulder height to provide extra support and improved comfort while you are grooming. Running boards and the optional self storing aluminum access ramp make getting in and out of your van a breeze.

RELIABILITY
All new conversions are built on quality E Series Ford chassis with the proven and economical 4.6 liter V8 - and all new vehicles come with a 5 year/60,000 mile power train limited warranty. All installed options and accessories are backed by their respective manufacturer and/or by Van Conversions, LLC. Our conversions are completed from start to finish in our plant in Largo, Florida and all work is performed by expert craftsmen.
VALUE
Our mobile grooming conversions are built with the best material, equipment and accessories available. We take no short cuts with your future. We use a revolutionary polymer subfloor to virtually eliminate the possibility of water damage and the costly replacement of wood floors. Be sure to ask the others if they still utilize wood in their floors. All exposed wood, used anywhere in our conversions, is double laminated with fiberglass and is trimmed in aluminum to stop water intrusion, guaranteeing you many years of carefree service. Our efficient methods and our experienced builders ensure you the highest quality at the lowest price.